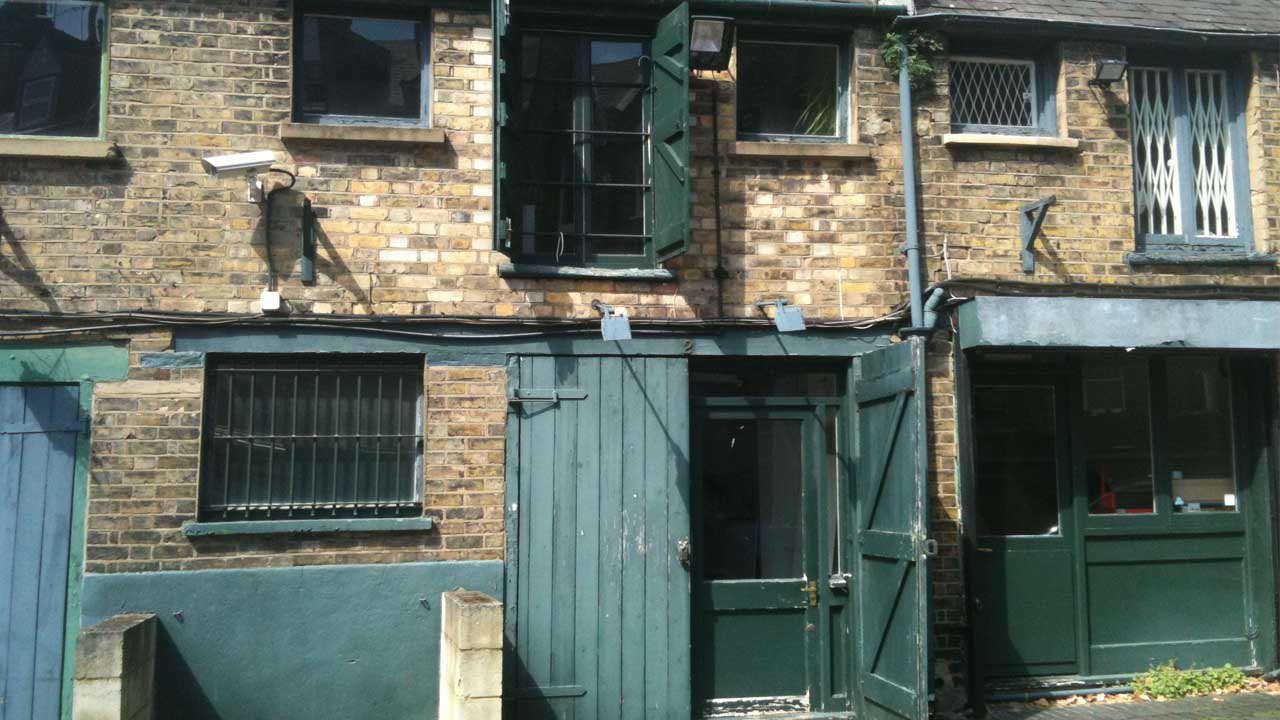 This is probably the speech I was going to do at our 10th birthday party, we had a great place lined up, honestly, it was going to be amazing! We may still do it, if we're ever allowed one, for now though it'll have to live as a socially distanced post online.
The best part of the story is Mighty Giant was born in an old stable, hence the picture above of our first office. Why did I start Mighty Giant? I'm going to go against the marketing wisdom and start with the How, not the Why. It was never through any grand scheme or plan, it was something that naturally evolved. I'd stepped away from the security of a BBC job, into the agency world, then into freelance life.
The first thing that dawned on me was I didn't like being a bit part, picking up the end of a project, jumping into someone else's work. Basically I wasn't cut out for the freelance world. I set up as Jonathan Ashworth Design to allow myself to handle all of the brief. When I had to put a name on some TV credits I realised I needed a real company name, and Mighty Giant was the name.
I was producing some decent work, designing TV titles/idents/promos for broadcasters (although maybe a few too many Eastenders spin-offs for someone who doesn't watch it). As more work came in I soon realised I was a jack of all trades, but not a master of any of them. My drawing was slowly falling apart, I certainly couldn't illustrate characters, and whereas I once thought I was a whizz in 3D I started to realise there were plenty of guys and girls out there better than me.
So I brought in experts. Nick Gripton first to add characters to my work, then Steve Liddle to beef up our 3D when we landed the Blue Peter titles job. All creative business's need that first big win, and Blue Peter was it. We pitched against some big companies, and being honest, I didn't really know how we would make it if we won. Not in a cavalier way, but realising it was a bigger and more complex job than I'd tackled before. It was at this point that I realised Mighty Giant really had potential, and also that I needed to start running it as a proper business.
My first full time hire was Andy Horan. I went for someone who I thought was similar in design outlook to me. It made sense at the time, we'd be able to cross over on projects and complement each other. A couple of years later though it became apparent that if anything this would hinder opportunities. As I looked to grow our work into new areas we needed varied and new skills. A quiet few months lead to Andy leaving, thankfully on terms that meant we're still in touch and catch up over a pint when we can.
With the idea of broadening our skillset, James joined me straight from college as a keen 3D designer. Immediately I could see I'd never match his knowledge and skills in 3D animation, his work has really flourished over his years at Mighty Giant. Somewhere along the way I  ended up in charge of an event called Motion North where I met Dan, a gifted illustrator and animator. We finally had someone who could properly draw! Marisol joined us for a year from Spain, then my first production hire Grace joined us as a fledgling Production Assistant. Within two years she has got our processes (and our social life) sorted as our Studio Manager, and is now the first real contact for the company. Matthew joined us just before we were all sent to our bedrooms and webcams. When we finally get back into the studio we can properly start to enjoy the new bigger team.
That's just the creative side. Just as important over the years has been getting help to grow and develop the business. Martin Nolan was the first to help me really get my head around numbers; Nick Morgan helped us develop our new business; in quite a different way we had several fun months of brainstorming the Mighty Giant offering with Simon Calderbank. The past couple of years have, without doubt, been our most successful (and our most organised!) and it's no coincidence that David Crawford has been here for that; part advisor, part therapist! And that's just the hired help, if I were to thank those I've met for a coffee, a lunch, to offer advice, then this would be a very long article. The friends I've made at Motion North, my peers, and competitors, have been a huge part of the journey. With no business partner with which to chew things over, all the advice and time has been invaluable from every one of you.
The future business plan David and I had formed has had to change with this new world we're in, yet I'm still excited to see how the next few years unfold. Despite the Mighty name, I never planned to have a big company. I aways wanted a company that people enjoy working for, that produces great work, for clients who enjoy working with us. To have achieved that is something I'll be raising a glass to.